Blessed with The Arsenal being TOTL …
… during the countdown to Christmas, and wanting to share the joy,
Gooners in Arsenal Scotland Supporters Club (ASSC) made their annual donations to local and deserving beneficiaries.
ASSC covers all regions of Scotland, and the Reps from each local group were enabled to chose how to use their donations of £1,250 in cash or in kind.
Gifts were made to the following:
The Hermeny Education Trust in Edinburgh
Instant Neighbour / Giving Tree for children in Aberdeen
The Childrens Unit at Victoria Hospital in Kirkcaldy
The Trussell Trust Foodbank appeal in Glasgow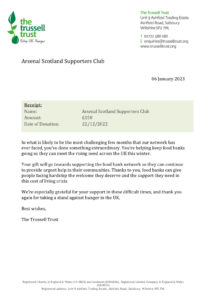 The largest donation was made collectively by several club areas to:
Team Lukas fundraising initiative.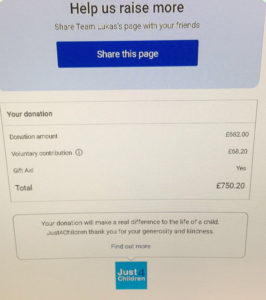 This will 
help
Lukas Thomson, the son of one of our members, return to the NAPA Center in Los Angeles to have further specialist treatment. 
In 2017, Lukas become unwell with a virus which attacked his heart resulting in myocarditis. He later went into cardiac arrest, requiring 30 minutes of CPR and placed on an ECMO (heart and lung bypass) machine, saving his life. Lukas also suffered a stroke following the cardiac arrest. Four months followed in the neuro rehabilitation ward where he had to relearn how to talk, eat and move.
Lukas has worked so hard and can now stand, and walk a little with assistance.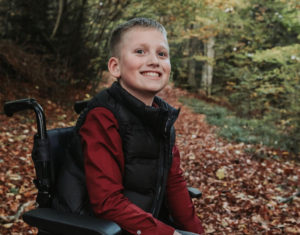 His goal is to be able to run around the garden with his younger sister, something we all take for granted. It is hoped that more specialist treatment will help Lukas achieve his goal.