What we do 
Arsenal Scotland exists to support Arsenal Football Club and to provide support to all in Scotland who follow The Arsenal.
You can read more about how the club is run at
and
Arsenal Scotland is much more than tickets. 
ASSC has raised about £90,000 for charity over the 16 years of its existence, to the Tsunami Appeal, Teenage Cancer Trust, Centrepoint London, Age Scotland, SAMH, SIMBA, Great Ormond Street Hospital, Sick Kids Yorkhill Hospital, as well as regular donations to the Willow Foundation and to CCLASP in Edinburgh. For the past four years we have also donated hundreds of Christmas selection boxes to hospitals in Aberdeen, Edinburgh, Glasgow and Kirkcaldy.
This has been done through all sorts of fundraising events, often bringing members together socially. Examples have included black tie Sportsman's dinner events with Arsenal Legends as speakers, such as Frank McLintock, Charlie Nicholas and Ray Parlour raising almost £16,000 for the Willow Foundation, the charity started by Bob Wilson, another Arsenal Legend and our Honorary President.
Our Honorary President was also called upon to unveil the blue plaque to remember David Danskin, an engineer from Fife who founded the team that became the Arsenal Football Club. For more on that, including the role Arsenal Scotland played in the memorial to David Danskin in Coventry Cemetery, look under the History tab. 
Members also have got together to take other social gathering, such as quiz nights and race nights, as we'll as more active sporting events. In addition to an annual Golf Event for members, on two occasions joined by Charlie Nicholas, ASSC has taken to the football pitch.
Arsenal Scotland has played at Highbury and then the Emirates in the end of season supporter clubs 5's tournaments, eventually to win The Emirates Trophy one famous Sunday evening on 29th May 2011, led by team manager John Swift and Ryan Blair (Captain), the squad included Chris Blair, Fergus Ramsay, Nat Fisher, John Jeffrey, Charlie Smeeton and Lee Fraser. That's Nat Fisher holding the Winners Shield!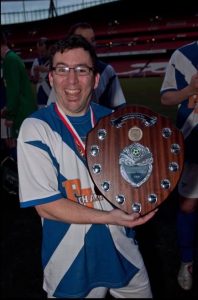 After ASSC East had played  ASSC West in a full 11-a-side selection match, Arsenal Scotland took on ScotSp*rs to win 3-2 and claim the the Scottish North London Derby Cup: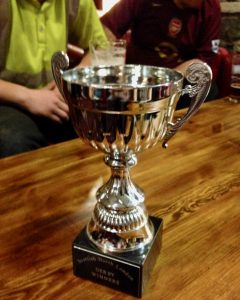 In past seasons Arsenal Scotland has supported its members by arranging tickets to Arsenal matches, both Home and Away. Over the past ten seasons, we have sourced an average of 20 tickets per game.
For some 'local' games, like Away to Newcastle United, we used to have hundreds of members at the match, and group trips to almost every Away game in Europe over the past ten years. ASSC has even managed to obtain rare tickets for those special games in the FA Cup: indeed, we have had members at every Arsenal Cup semi final and Final since 2005.
However, that this might become a thing of the past.
Limits on the availability of tickets for supporters clubs, and the upsurge in demand, meant fewer tickets sourced during that winning streak during the 2022/23 Season.
Many members have been meeting up to watch matches together in pubs, such as
The Polwarth Tavern in Edinburgh
Alfredo's Sports Bar in Glasgow
The Butchers Arms in Aberdeen
Sportsterz in Dundee
For updates do check via @ArsenalScotland on Twitter
For fixtures, check out Arsenal.com
Many of us also gather on a members-only* FaceBook page
* After requesting to join, you will be asked by Admin via private message for your name and membership number
Do note that Arsenal Scotland social media platforms are solely for discussions about The Arsenal Football club and The Arsenal Scotland Supporters Club – nothing else. (In the distant past we had trouble with posts outside these parameters and we established these rules to avoid unnecessary misunderstandings and conflict. Please stick to them.)
If you have other questions, email