In December 1886, fifteen men, mostly Scotsmen and led by engineer David Danskin from Fife, met in The Royal Oak in Woolwich, a pub across the road from the Armoury where they worked. They agreed to form a new football club named Dial Square. The name was later changed to the Royal Arsenal, then Woolwich Arsenal and now the Arsenal Football Club as we know it today.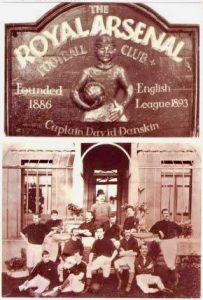 Several years later, in April 2004, three Scotsmen met in the 'Droughthy Neebours', a pub in Edinburgh, and agreed to form a new Arsenal supporters club to serve all Arsenal supporters living in Scotland. The Arsenal Scotland Supporters Club became an official supporters club in September later that year following official recognition by Arsenal FC. 
We started with a membership of 30 people. Over the years the ASSC has grown steadily, now with membership of several hundred, establishing good reputation with AFC and other Arsenal supporters' clubs and a track record in enabling members to attend games.
We were delighted that our 10th Anniversary was recognised by Arsenal FC in 2015 with a special photo of the 1st Team Squad.

Fund -raising is an important part of Club activity, both for local charities and those like The Willow Foundation which was started by our Honorary President Bob Wilson.
We have also taken part in a number of sporting events. Two form part of ASSC's history.  
On Sunday evening 29th May 2011, ASSC won the Emirates Trophy in a 5-a-side competition played by 27 other supporter clubs on the pitch at the Emirates Stadium. 
On 31st May 2014, ASSC beat ScotSpurs at the Spartans Ground to win the Scottish North London Derby Cup.
For more on past and present club activity, look under the About tab.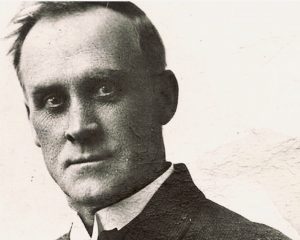 David Danskin, an engineer from Fife, was the first Captain of Dial Square at Woolwich in 1886, the team which ultimately became Arsenal Football Club. In July 2007, our Honorary Club President, Arsenal Legend Bob Wilson, unveiled a blue plaque at his birthplace in Burntisland.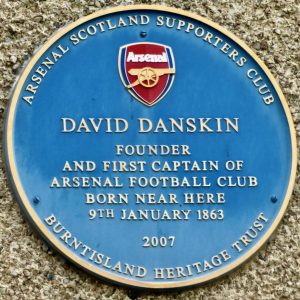 In May 2019, Arsenal Scotland played a key role in arranging a memorial to Founder David Danskin to be placed by Arsenal FC at his grave in Coventry, attended by many of his family's descendants, by Arsenal's Chief Executive Vinai Venkatesham and other senior Arsenal officials, including Arsenal Legend Pat Rice, and several members of Arsenal Scotland Supporters Club.