It's All About The Shirt
… & an unbelievable performance.
It was not the first time I had travelled down from Scotland this season to see The Arsenal play. And those first three matches had included a four nil defeat here at Anfield, and even a loss against Everton.
But this time it would be different. I've never enjoyed a draw so much. So proud of that unbelievable performance from the lads last Thursday night. A team that plays for the shirt.
Myself and friend had some Scotland flags which we like to proudly wave when Kieran Tierney plays in an Arsenal shirt, declaring support as a member of the Arsenal Scotland Supporters Club.
As some will have seen on TV, I was the one fortunate to receive KT's shirt after the whistle at Full Time.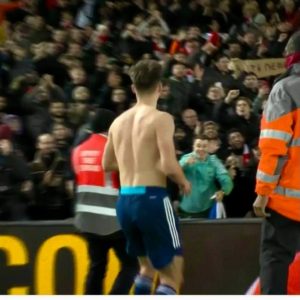 It seemed like as in a dream to have KT clocking me at the front with the flag and then making sure that his shirt was getting to me – quite an overwhelming moment and I still can't believe it actually happened.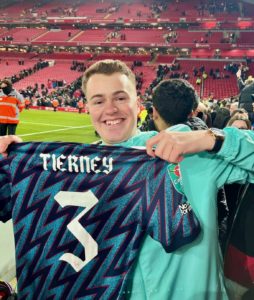 I've been lucky enough to grow up watching KT at Parkhead which makes it all the more special, 'the fan that got lucky' springs to mind.
As always, I put some photos up on social media and a couple hours later I received a message from Kieran Tierney, the man himself,
KT: "Love it Brother"
My mates, Jason and Luke, clearly thought I was winding them up on the journey home, until I showed them the actual conversation on my phone. Still somewhat overwhelmed, I had managed to string together a few messages  with KT during which I told him that I'll be there at the game next weekend, against  Burnley.
Hopefully this can help strengthen the relationship between KT and Arsenal Scotland. I'll be sure to let him know more about ASSC when next I see him!
The personal goal I'm after is to get the shirt signed so I can frame it together with my match ticket. Watch this space…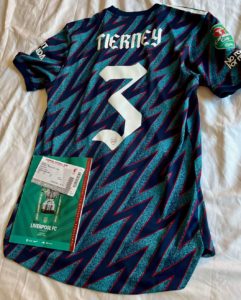 Thanks again to Kieran for making it a night to remember.  One big step to the Final and some Silverware!
A dream come true.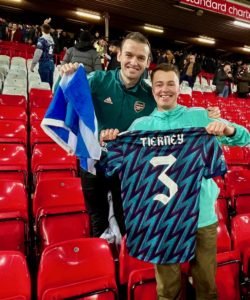 Connor Shepherd, Arsenal Scotland Supporters Club