Johnny MacLeod scored the opening goal in Arsenal's very first European match, a 7–1 thrashing of Stævnet on 25 September 1963.
As royalty he of course accepted handshake from Prince Philip, as per this photo which sits above a door in Middletons Bar on Easter Road.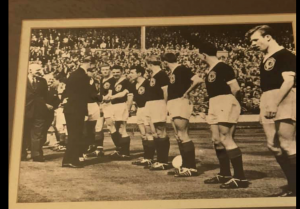 Here's an account from Jamie Lynch on their surprise meeting:
"It was great we just sat down at the next table to Johnny and his son John Barrie and I said it's a grand summer's evening for a game and they asked if we were going. And I said I am, that it should be a good game and that although I'm a massive Gooner I've a soft spot for the Hibees. And John Barrie, the son, said, "so does this man here".  John senior smiled and I asked how come he liked both teams and he laughed and said, "well I played over a hundred time for both". Me and Danny were both taken aback.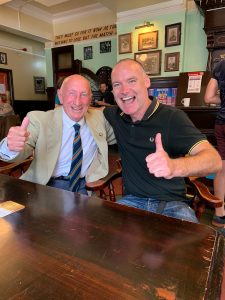 "Then we got talking about a wide range of things ranging from my home place in Limerick which they both knew well. John's wife actually came from co Cavan, to chatting about visits to Canada and Boston, to pubs in north London on the Blackstock Road for visits to Highbury and the Emirates. We had a great chat with them and it was a pleasure to meet such genuinely sound gentlemen. Just the same as ourselves, out for a pint & watching a game of football."
And, apparently, his transfer fee paid for the new toilets at Easter Road!