Arsenal at Easter Road
"We would walk 500 yards …"
For many of us this was as local as you could possibly hope for To Watch The Arsenal Play. This, Hibernian vs Arsenal, marked the start of the pre-Season friendly matches before the first League game against Brentford.
Good to see Gooners from near and far, this from Stubsy a good summary for of those visiting North of The Border.
Some of the Lads met up with the Arsenal & Hibs Legend, Johnny Macleod before the game. Johnny played over a hundred games for both clubs,  and he scored the first Arsenal goal in European competition in 1963.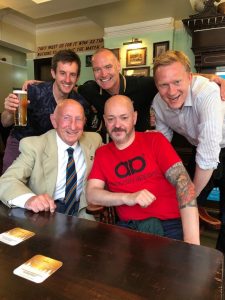 You can read account of that  surprise meeting here.
Below is an extract of some of the posts made on our FaceBook Page:
"It's good to be back at the football"
"We loved being part of the occasion, and it was great to put some faces to names" ☺
"It's the little things that make it a day to remember for the kids – quality of AMN to pose for photo & a hi & 👍 from Auba made Harrison's day. (Saw Laca & ESR sign a guys shirt & couple of selfies from Auba & Laca which I thought decent ). So good to see them play live again – just warming up at the end with the nice interplay with Laca, Pepe & ESR."
"Well today , for me , was awesome! Until today I had only met two club members (Jabs and Mike) in almost 16 months .. since my last Arsenal game away at Chelsea. Not only this but watching my two teams playing each other at Easter Road. The game didn't matter nor did the score. I was livin' the dream. I was actually quite emotional for a few seconds as the teams walked out the tunnel.
"But the most important thing for me was once again meeting friends from Scotland and England not forgetting an Irishman or two. Some of the finest people you could ever hope to meet. Proper Gooners and Hibbies! Some of them have stories to tell about today, so watch out for them. Proud and pleased to meet everyone today. Just perfick! And yes I bought a half and half scarf. 😉 "