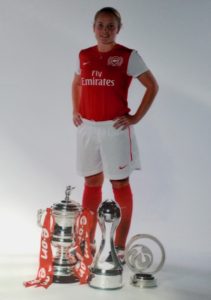 Kim Little's football career
… as seen by her father, Calvin Little
Sport was a significant aspect of the Little family life in Aberdeen.  Football in the back garden or at the local playing field with Kim and her brother Euan, was the most popular.
How her career started
I recall one evening, playing with Kim, then about 9 years old, and Euan at the local park.  Mintlaw Boys Club happened to be training at the same time. Kim was so intent on watching the boys training that I eventually approached the coach and asked if she and Euan could join in and that was the start of her football career.
She played regularly for the Boys Club and started to get notice, then a local mum started a girls team called Mintlaw Miracles. They played in the local gala tournaments, often winning them. From there she went onto play for an under 17's girls team based at Cruden Bay, later to become Buchan Girls/Women. At the same time, Mintlaw Academy started girls football. The Academy team won the North of Scotland and the Scottish Cups a number of times.
Choose Football (rather than cross country racing)
Prior to Kim starting to play organised football she used to take part in Primary School cross country racing, which she was good at. This was always on a Saturday morning and when the opportunity to play team football arose it was also on a Saturday morning, I was keen that she kept the cross country going. However, Kim had other ideas and that was an end to her cross country running.
Aged 15, Kim left Buchan Girls/Women to join Hibs Girls, in Edinburgh. A year later she played for Hibs Women who were based in Dalkeith. Twice a week, we commuted that long journey from Aberdeen so that Kim could train and play games.
Arsenal Beckons
After a successful season with Hibs Women Kim and I were invited by Vic Ackers, the then Arsenal Ladies manager, to visit London Colney and see the Arsenal set up. We were shown round the training ground and then to a game at the Emirate's Stadium watching the game from the dug out with the other players. I came home with a Van Persie signed Arsenal top.
Shortly after Kim started with Arsenal Ladies Academy (now Arsenal Women), aged 16. Later combining her University study with football, Kim completed a Sports Science Degree at Hertfordshire University. Last year, the University awarded her a Honorary Doctorate Degree in recognition of her footballing achievements.
[Kim made 108 appearances, scoring 89 goals]
America Beckons
I think it was after four or five years playing with Arsenal Women that Laura Harvey, who had been her coach at Arsenal Ladies, persuaded her to join her at Seattle Reign on the North West Coast of the USA. Kim had three successful years with Seattle Reign, winning back-to-back Championships.
Advance Australia Fair
Jess Fishlock, a team mate at the Reign, then persuaded Kim to join Melbourne City in Australia where she had a successful season. If I recall, Kim was the top scorer in the league. The team was coached by Joe Montemurro who was later to join Arsenal Women as coach.
Arsenal Once More
After 3 seasons with the Reign, Kim returned to the UK to re-join Arsenal Women as the Team Captain. By this time media interest and TV coverage of the Women's game had increased.  Other teams such as Chelsea and Man City had invested more in the women's game making the women's league much more competitive.
Wearing Her County's Shirt
I've not said much about her involvement in the Scottish National Team.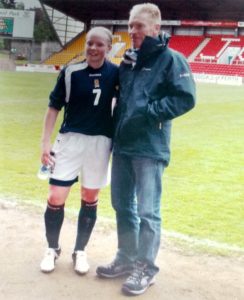 Kim started playing for Scotlandfrom the age of 16, ending with her retirement last year, aged 31 [having played in 140 games] . It's fair to say that her involvement with the National Team has had it's ups and downs.
 Reflections
Never in her early days did she or I think that playing football would become a career. It was just something you did for fun, to meet with other people and make friends. Nor did we think it would take us all over the world visiting places we would have otherwise never have seen. Most of our holidays revolved around where Kim was playing football.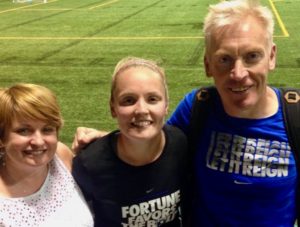 What next for Kim I don't know. I imagine more football with Arsenal for another year or two. She is currently studying for a Masters Degree in Business Management which I think helps give a good balance between football, which can be a bit of a bubble, and wider life experience.
Calvin Little
.. as told  to Caz Moir
Grampian Regional Rep, Arsenal Scotland Supporters Club