Win With Arsenal Scotland
Always good to be at the last match of the season which has an atmosphere which is very special. And that's especially good when your team knocks 5 goals past the opposition. It's doubly so when you know you've won your match tickets in a good cause lottery run by your supporters club!
A win for the two of us!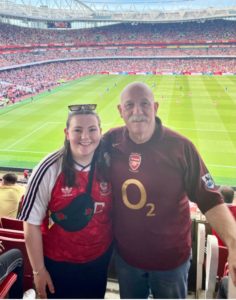 This second trip to watch The Arsenal at the Emirates Stadium for myself (Olivia) was made memorable by the beautiful weather, magnificent play and (might I add) a great vegan burger 😉
[Dad and I were also amused to be obliged to step up to become acting stewards and assist the confused to their seats; sad to report, the (supposedly real) steward was gazing nonchalantly into space, looking less than thrilled to be there.]
A win for The Arsenal!
With a comfortable 5-1 win in the bag, it was great to see the players and their family doing a walk of the pitch, obviously fulsome in thanking the fans.
Sometimes it is easy to forget that our players are not alone but have the valuable support of their families and friends. Just like us really, but they also play for the best club in the world!
And a win for Lukas!
We want to say the biggest thanks to Jamie Lynch for organising the fundraising for Lukas Thomson  – and, of course, to "Jurgen" for pulling out Dad's winning ticket!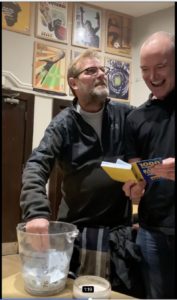 So glad that all the the donations from that raffle helped enable Lukas' trip to Napa for 3 weeks of treatment.  He has looked so extra happy in the pictures that are posted on the Arsenal Scotland Facebook page!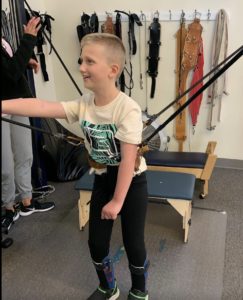 And, so far almost 80% of the total needed has been raised – for more, see justgiving.
The amazing things that Arsenal Scotland does, like this initiative, just show you how great it is to be part of such an amazing supporters club!
COYG!
Olivia & Ian George